A Hall of Fame for any sport is a tough thing to choose players or people for. Every year, you have bonafide legends and builders that wrote the history of their respective game, many synonymous with the very sport they play. For the most part, the Hockey Hall of Fame has followed that.
Hockey has remained controversial in its selection process. It's possibly the easiest of the Big Four Sports Hall of Fames to get into, but yet is only starting to induct overlooked stars, as well as female players and non-NHLers. To purists, the Hockey Hall of Fame should be for the NHL, but most agree "hockey" is in the name, meaning the induction shouldn't end at the league's premier male league.
Last year, the Hockey Hall of Fame welcomed a unique group of players and builders. There was the obvious; stars like Martin Brodeur and people as influential as Willie O'Ree. Then there was the controversial; commissioner Gary Bettman getting in while still holding that same office. Alongside them were unsung legends, the underdog story of Martin St. Louis, the never-got-his-due story of Alexander Yakushev, a women's hockey legend in Jayna Hefford.
What makes a Hall of Famer eligible? Like Brodeur, the HHOF has inducted tons of no-brainers: Gretzky, Orr, Howe, the list goes on. The HHOF began relaxing its bar around the time former Leafs GM Jim Gregory became chairman of the selection committee, finding well-earned but overlooked players like Bernie Federko and Rod Langway into the Hall of Fame, a trend that has carried to recently with Dave Andreychuk and Mark Recchi, players many felt belong in a hall of fame for "very good" players.
A Hall of Famer must have impact on the sport. You need to be able to tell the story of the decade they played in with them in it, and while Andreychuk and Recchi may be remembered for their later career into their 40s, it's hard to remember a time when both were overlooked in a time when Gretzky and Lemieux were simply dominating the league.
Regardless, in choosing my predictions for the 2019 Class, I made my picks based on what they brought to hockey. I inducted four male players, three that had played in the NHL, and one female player, as well as one builder. There's no surefire players — Jarome Iginla and Hayley Wickenheiser are eligible in 2020 — but all these players belong, and regardless of them not being first ballot inductees, they are rightful Hall of Famers.
Theoren Fleury
Eligible since: 2006
In his prime, Fleury was one of the NHL's premier players. Like St. Louis, despite his small size, Fleury was often found among the league's top scorers, putting up a pair of 100 point seasons in the early 90s. Helping the Calgary Flames to a Stanley Cup in his first full season, Fleury would notch six 30+ goal seasons, as well as 29 goals in the lockout shortened 1994-95 season, and would stand out with his gritty, but offensive play. He would finish his NHL career with 455 goals and 1088 points in 1084 games, also playing a significant role internationally, winning gold in the 1991 Canada Cup and the 2002 Olympics.
Unfortunately, people still focus on the substance abuse issues Fleury suffered through the later years of his career, issues which were later revealed to stem from abuse during his junior career. In the years that have followed, Fleury has made a mark off the ice, spearheading awareness of sexual abuse and mental health, a mark bigger than the one he made as a player.
All in all, there's some players that belong in the Hall of Fame, and some that don't. Plain and simple. Fleury belongs.
Sergei Zubov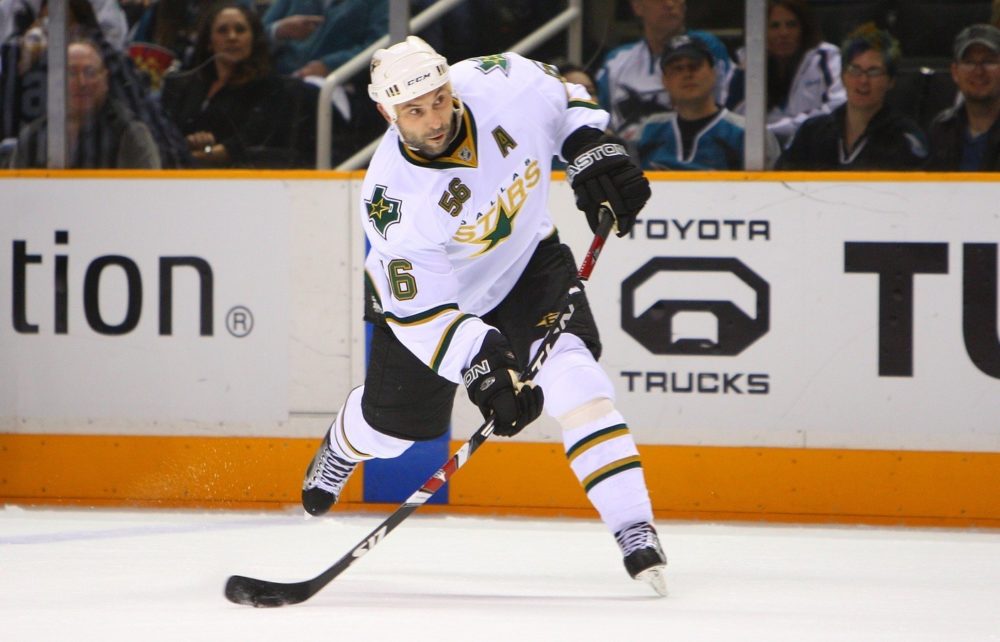 Eligible since: 2013
Zubov had the misfortune of playing defense at the same time as some guys named Nicklas Lidstrom, Chris Pronger, Brian Leetch, Scott Stevens, Scott Niedermayer, and Scott Stevens. You might have heard of them.
But Zubov was no slouch himself. Coming into the NHL fresh from winning Olympic gold, Zubov became part of the first group of Russian players to get their names on the Stanley Cup with the New York Rangers in 1994. Leading the Rangers in scoring that season with a whopping 89 points, he would be a mainstay with the Rangers until his 1995 trade to Pittsburgh. Eventually moving to Dallas, Zubov was the Stars' cornerstone defender for the next decade, proving to be an offensive threat, and playing a big role in the Stars' 1999 Cup win. Never going below 40 points until 2007-08, Zubov would finish his NHL career with 771 points in 1068 games.
As one of the best defenseman of his generation, and a points per game average of 0.72 — merely a fraction behind Lidstrom's 0.73 — Zubov had the misfortune of never receiving a nomination for any awards, only being named to the 2006 Second All Star Team. However, it's indisputable what his contribution was, and that he definitely belongs in the Hall.
Pierre Turgeon
Eligible since: 2010
Turgeon, like Andreychuk did, has spent years as the poster boy for "best non Hall of Famer." In his 20 year career, Turgeon might have had longevity to help his final stats, but in terms of skill, no number of years could take away how talented he was.
Although he never won a Cup, Turgeon spent years as one of the NHL's elite centres, finding himself among the best in points in the early 90's. In stints with the Buffalo Sabres, New York Islanders, Montreal Canadiens and St. Louis Blues, Turgeon solidified himself as a franchise player, scoring 9 30-goal seasons and 7 80-point seasons, proving himself key in the Islanders' 1993 playoff run. Although his later career was marred by injuries, he would retire with 515 goals and 1327 points in 1294 games, being selected to 5 All-Star Games and being awarded the 1993 Lady Byng Trophy.
Despite all this, one incident casts a shadow over Turgeon's career: the 1987 World Juniors. While the Canadian and Soviet teams erupted in a brawl that would disqualify both, Turgeon remained on the bench. Some say this led to a grudge that lasted Turgeon's career, a grudge that is perhaps preventing a legend his place in the Hall of Fame. Being that there are legitimately horrible people in the Hall of Fame — including an accused pedophile and ex-convict — preventing someone from being in the Hall of Fame over a grudge is ridiculous. Turgeon is a Hall of Famer.
Bohumil Modry
Eligible since: 1953
The Hockey Hall of Fame should honour the greats, and hockey extends past North America. Only a handful have been inducted based on their non-NHL careers, and that honour has been reserved for the very best: Tretiak, Kharlamov, Yakushev. However, one name, one that arguably changed hockey more than either of those names remains outside. And while there have been countless goaltenders inducted over the past few decades, all of them owe it to Bohumil Modry.
Most people have never heard of Bohumil Modry. Modry was the Czechoslovak goaltender during their glory years in the 1940s, helping win them the 1947 and 1949 World Championship. It just happens that while the Czechoslovak team was full of talent, Modry was really good. Leading his team to 10 Czechoslovak and Czech-Moravian League championships in 13 years, Modry also helped them to a silver medal at the 1948 Olympics. His play caught the eye of NHL scouts, in a time when European players were seen as inferior to North Americans. Modry was told he could leave the country to play in the NHL, with several teams offering their services. However, it wasn't meant to be.
On their way to the 1950 World Championships, to defend their title, Modry and his Czechoslovak teammates were all arrested by the communist authorities, being charged with making plans to defect to the West. Modry, seen as the leader, was given the harshest sentence, 15 years in prison, as well as spending time in forced labour at uranium mines. Although he would be released after 13 years, he would never recover from poor health, dying in 1963. Before his death, Modry published books on goaltending, books read by an entire generation of goalies, including Tretiak, Jiri Holecek, and Dominik Hasek.
Modry's story may serve as a harsh reality of the communist regime of Czechoslovakia in the Cold War, and while he has been honoured with his 2011 IIHF Hall of Fame induction, it's important to rightfully honour a man who at one point was arguably the best at his position, and definitely one of the best of all time.
Thérèse Brisson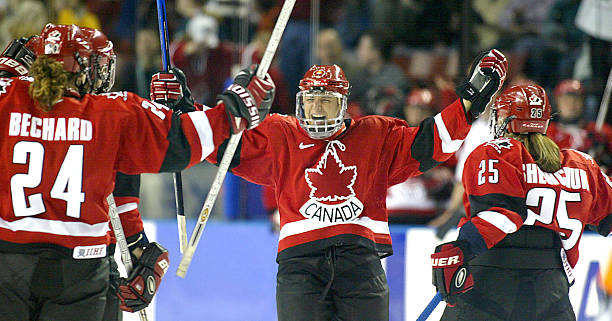 Eligible since: 2008
In a time when Canada dominated the Women's World Championships year after year, no one was at the forefront more than Thérèse Brisson. An offensive defender, Brisson was an integral part to Canada's 2002 women's hockey gold medal.
Leading Canada to 6 World Championships, as well as the gold medal and a 1998 silver medal, Brisson found herself among the top scorers for defencewomen. With 19 points in 30 games in World Championship totals, as well as 12 points in 11 games in Olympic totals, Brisson made it clear she was an offensive force. She would retire in 2005 after a season with the Montreal Axion of the NWHL. Brisson was elected to the Canadian Olympic committee in 2009, and elected Vice President in 2015.
Women's hockey has not got enough credit as its own sport, and is only now getting the respect it deserves with numerous inductions over the past few years. In inducting Brisson, the Hall adds a bonafide athlete and one of the main reasons the Canadian women's team won so many World Championships.
Bryan Murray
The hockey world lost a legend and a great man nearly two years back, and although he would not live to see it, he's definitely earned a place as a builder.
Coming into the NHL from coaching in juniors and the minors, Murray coached a Washington Capitals team full of talent, but not enough to get past dynasties like the Islanders and Oilers. Becoming coach and GM of the Red Wings in 1990, Murray built the blocks of the team's eventual dynasty, hiring Hall of Fame coach Scotty Bowman in the process. After stops in Florida and Anaheim, making stops in the Stanley Cup Final with both, he would join Ottawa as head coach in 2004, leading the Senators to another Final, one lost to Anaheim, the team he helped build. He would stay in the Senators organization as a coach and later GM, until his illness forced him to step down. He would win 620 NHL games
While Murray was among the top coaches and GMs season after season, earning him a Jack Adams in 1984, Murray was also recognized for his wit and personality, as well as his loyalty and warmth. Despite never getting a Stanley Cup, Murray was a towering figure in the hockey world, and deserves a spot in the Hall of Fame.